I don't understand how polls work and how pollsters get their data (I've never been contacted by a pollster myself), but I want to share some statistics I came across in an article that reported on "belief in God" among generational groups from 1988 to 2018. Here's the chart: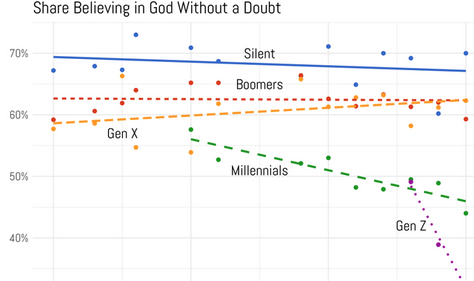 There are a couple of noteworthy things here. The first is positive: Generation X (born between 1965 and 1979, though the exact years are debated) has been growing in belief in God steadily since 1988. The second is negative: Millennials (b. 1980-1994) and Generation Z (b. 1995-2015) are falling off a cliff of unbelief.

I don't have the space to breakdown the defining characteristics of these three generations. But if I were to generalize in a stereotypical way, it would be something like this: Gen X is pessimistic, jaded, and sarcastic. Millennials are entitled and lazy. And Gen Z wants to stare at a cell phone screen all day every day. Again, this is a stereotype.

My old joke about this is that I'm a Millennial who only missed being Gen X by a couple of years. Therefore, I want you to acknowledge my sarcasm by giving me a participation trophy. And since I have two Gen Z daughters, I'm fine with them recording the participation trophy ceremony on their phones and posting it to TikTok. If you don't understand, then you're probably a Boomer (and I mean this lovingly). But I digress.

The main point I want to make in sharing this is to remind us, as a church, that while younger generations have a lower percentage of people who say they believe in God, that doesn't mean that they are not using distorted versions of Christian principles as they search for meaning in life. And it doesn't mean that they're not worshiping false gods in ignorance.

Younger generations preach the themes of love, inclusion, acceptance, and justice. These are all biblical themes. But when they are separated from biblical context and substance, they become a shell of what they are meant to be and therefore become problematic. When I talk to people my age and younger, I try to make this point regularly.

One of my favorite ways of demonstrating this relates to the subject of love. How often have you heard someone try to justify sinful behavior by reminding us that "God is love?" (1 John 4:8). Yes, God is love. But this loving God also gave us His loving law. And this law is meant to dictate our behavior. If we are acting out of accord with, for example, God's law in relation to human sexuality, then we are not acting out of love. We are acting in defiance of the law of the God who is love. In effect, when we let a human conception or feeling of 'love' dictate our behavior instead of the law of God, we are demonstrating what we really believe isn't that "God is love." Rather, it is that 'love is God.' This never ends well. C.S. Lewis saw this 'love is God' trend in his day. He responded: "If Affection is made the absolute sovereign of a human life the seeds will germinate. Love, having become a god, becomes a demon."

The same goes for justice. When justice becomes a god, it will become a demon. Inside and outside the church, the younger generations love to preach the message of "justice."And you'll even hear non-religious advocates of justice remind us that Jesus said, "Judge not, lest ye be judged." Of course, they're judging you as they say this. And they want Jesus to be a loving, syrupy God who never judges anyone anyway. In other words, they want justice apart from a God who judges. They want love apart from a God who gives us law. And they want tolerance and inclusion, but they won't tolerate or include anyone who disagrees with them. They'll demand inclusion while joining campaigns to cancel people on Twitter. It's a spinning hamster wheel of contradictions.

Like Gen X, hopefully the Millennials and Gen Zers will accumulate enough wisdom as they age to see their contradictions, repent, and seek after the Christ of the Scriptures (we can, and should, pray that this will be the case). In the meantime, our job and privilege as a church is to proclaim Christ, and His law, with the hope of that happening. Our gathering together as a church Lord's Day by Lord's Day is for the purpose proclaiming the only God who will never become a demon. The only God in whom mercy and absolute truth meet together. The only God who never contradicts Himself. The only God of true grace who delights to cancel our sin rather than cancel us. And the only God who doesn't really care how old we are or what year we were born. I look forward to seeing you Sunday when, once again, we'll delight in the law of the Lord and focus on the only message that can change hearts (and change the charts): Christ, and Him crucified. May God bless you until then.